Forage Roundtable: Overcoming Anxiety and Imposter Syndrome was originally published on uConnect External Content.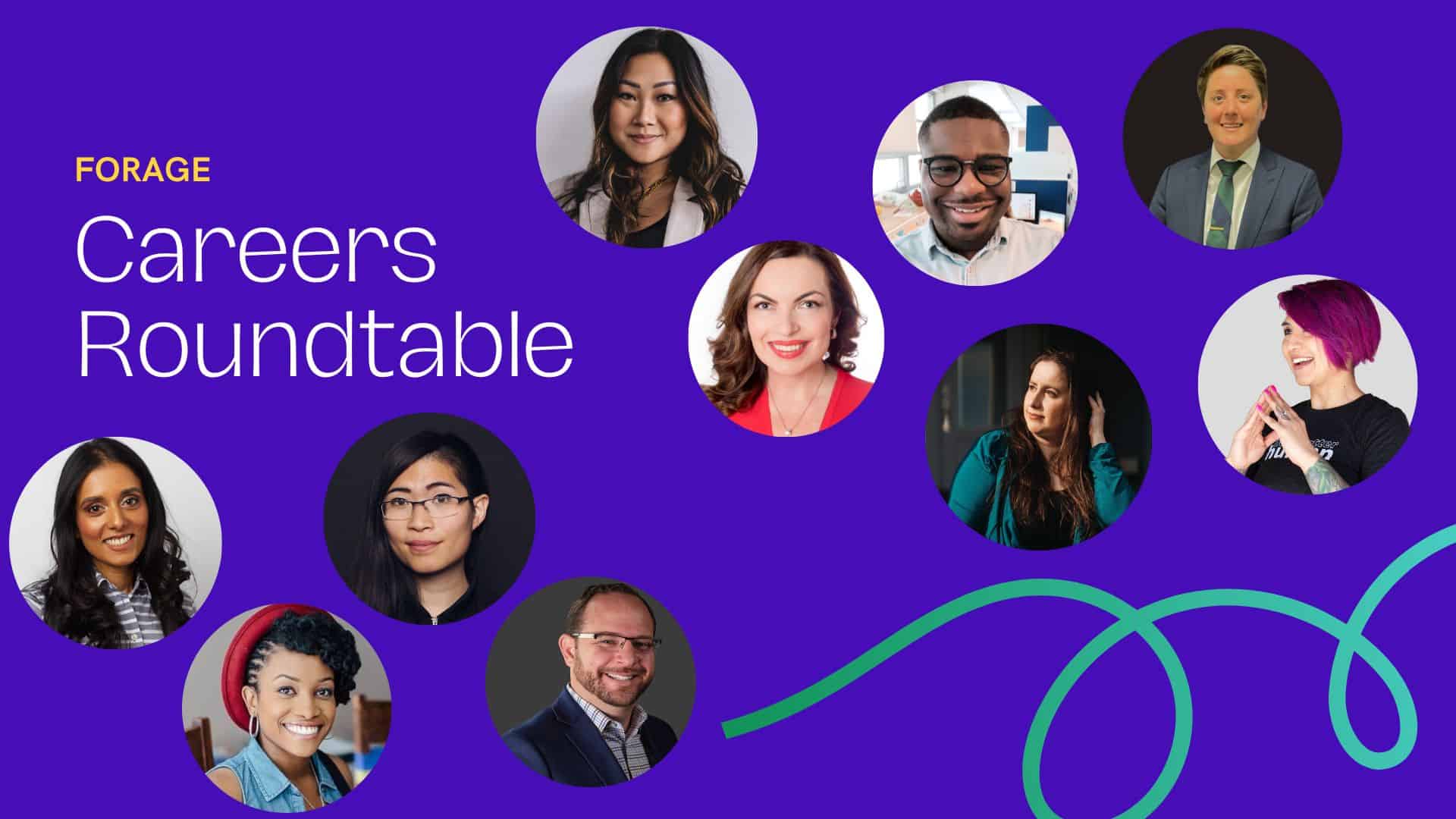 Students and young professionals face a great deal of anxiety when it comes to choosing a career path. "What do you want to be?" and "What do you want to do after you graduate?" are questions that plague the typical undergraduate. 
A career choice may come naturally for some, but the idea of everyone having "one true calling" is a myth. Students are constantly being told that they need to plan their careers early, so anxiety surrounding career-based decisions only intensifies with each academic year. The choices students and early talent make now are important, but they are not life-defining by any means. A Pew Research analysis found that 53% of employed U.S. adults who quit their job in 2021 changed their occupation or field of work last year. No one is confined to a single career. 
Career anxiety is closely intertwined with imposter syndrome. Imposter syndrome involves severe self-doubt and attributing success to luck rather than skill or talent. According to the International Journal of Behavioral Science, 70% of people are estimated to experience imposter syndrome in their lifetime, regardless of their background or profession. 
The purpose of this roundtable is to bring together experts from varying industries and backgrounds to shed light on career anxiety and imposter syndrome. We asked a panel of ten career experts eight questions to highlight their personal experiences, advice and tips for students and young professionals. Read on to see what they shared. 
Takeaways
Start with yourself. Take the time to improve your craft and learn the essential skills. This will help boost self-confidence. Stop worrying about what others are doing or their "highlight reels," and redirect your focus toward your own goals — big or small. 
Being uncomfortable is powerful — and totally normal. Not much in life comes naturally. Your career journey is going to involve experimentation, taking risks, and a great deal of time. Putting yourself outside your comfort zone can lead to new opportunities and self-improvement. Almost every one of our experts said to embrace discomfort. It'll also help keep you curious and allow for special moments and unexpected victories.
Don't be afraid to ask for help. Whether it's a family member or a round of informational interviews, continue to reach out to your network for advice. Someone in your role or industry can help provide insight on what it takes to get there. There's no harm in asking if they have a few minutes for you to pick their brain (people love to talk about their journey). Keep your eye out for a mentor (but don't force it!) or career coach who can guide you through the process.  
Find out what you truly enjoy. Remember that finding a career path is also about finding fulfillment. Use your talents and education to help influence your decision, but explore the fields that excite you and motivate you. Many of our experts changed their career paths a number of times. 
What was your personal experience with choosing a career path? Did you ever change your path? What led you to the role you have today?
Mita Mallick (Head of Inclusion, Equity, and Impact at Carta): Ever since I can remember, I have been passionate about storytelling. But as a kid, I didn't see many stories being told that included people who looked like me. I went into marketing to ensure more voices were included, and continue to fight for diversity of representation. I moved into the field of Diversity, Equity, and Inclusion to help companies build end-to-end inclusion ecosystems — to ensure each and every one of us feels like we belong in our workplaces.
Margaret Buj (Senior Talent Partner at Mixmax): I didn't pick my current career path until I was in my late 20s. I wish I was one of these people who always knew that they wanted to be a doctor, for example, but this wasn't the case for me at all. I studied marketing and international trade, enjoyed it and worked in sales and marketing for a small book publishing company for several months. I felt sales wasn't the career path for me, though, so I started exploring different options and conducting lots of informational interviews, and that's what led me to my career in recruitment. 
Megan Lieu (Data Scientist at Narrator): After college, I really thought I'd probably stay in finance forever. Two years in, I was severely burnt out and had to dig deep to ask myself why my performance was suffering and why I was crying at work every week. The possibility of having to start all over in a new field was scary, but the thought of staying where I was scared me even more. I thought back to some Data Analytics courses I had taken in school, and how I had done one project using Power BI at my first company. From both those experiences, I decided to give data analytics a shot. Three months of a grueling job search later, I landed my first job in the data field as an Analytics Consultant.
Have you dealt with imposter syndrome at some point in your career? If so, do you have any tips you can share for overcoming it?
Wes Spencer (VP and Channel Chief at Fifth Wall Solutions): Yes. Everyone deals with imposter syndrome. We have a natural tendency to compare ourselves to others around us. And in that comparison, we see strengths and qualities that others possess that we do not. This is where imposter syndrome comes from. But what we never see are that person's weaknesses. So we only witness the "highlight reel of success" from others. Social media makes that worse. For me, the key to overcoming imposter syndrome is to focus on me. It can be hard to get comfortable in your own skin, so to speak, but that is a critical piece of success.
Lauren Howard (CEO of Virtuelle Health and ElleTwo): My entire career was punctuated with imposter syndrome up to this point, and it still persists today. I do my best to stop and ask myself who told me that I can't do the things that I'm worried about doing. Usually, it was just me. If no one else is concerned, why should I be? I also look at my track record and remind myself that I have done almost everything that I set out to do. 
DeMario Bell (Senior Community Manager at Culture Amp): I felt this responsibility in rooms and spaces that I was in to not only be a subject matter expert about my work but to represent those who shared my story. It has been a journey getting to this mindset. I'm much better at it now. I live audaciously in my authentic truth because that is what has allowed me to get where I am. Why would I suppress that which is my superpower? I am unapologetically Black and a first-gen professional. So, my tips would be to change your self-talk, find a mentor, and know your core values. You are enough. Let your light shine bright even if it makes others feel intimidated.
Brianna Doe (Senior Demand Generation Manager at Inventables): I used to struggle with imposter syndrome quite often. One thing I realized is that I only ever felt imposter syndrome when I was opening myself up to new challenges. If I stayed where I was comfortable, with what I was comfortable doing, then I was bored. Some tips that have helped me:
Separate facts from your feelings. Feeling something doesn't make it true, so focus on the reality of the situation. "I have the experience." "I work hard." "I was given this opportunity for a reason." 
Keep an accomplishments log. Track all of your strengths, any positive feedback that you receive, and any of your accomplishments. You can refer back to this when you're feeling unqualified or unprepared.
Focus on what you can learn. If you dedicate time to improving at your craft or in your industry, you'll have more power to reject imposter syndrome.
If you've experienced career anxiety, what were factors that led you to feel this way?
Wes: The biggest career anxiety I faced was when I moved from a stable job in banking over to a brand new cybersecurity startup. Talk about a job that was way out of my normal experience! The first few weeks were torture. I wasn't confident. I was out of my comfort zone. And all I could think about was what a mistake I made in the job transition. But guess what? Eventually, I became more comfortable. I focused deeply on my own success and eventually I found my way and the anxiety slowly, but consistently, melted away.
Megan: The source of my career anxiety has usually been comparing myself to others and their career paths, which has made me believe I should be a lot further along than I currently am, or should have accomplished "XYZ" by now. I still struggle with this toxic mentality everyday.
What advice would you give to young professionals and students who have anxiety in their current role or anxiety over choosing a career?
Mita: These lines we create for "careers" are blurring. I lead Diversity, Equity, and Inclusion and still consider myself a marketer. If you asked me when I was younger if this is what I thought I would be doing, I would have said no. I learned over time to focus on what I am good at and what brings me joy. You have to let go of other people's expectations of what it means to do this, or be that. 
Lauren: You never have to actually know what you want to do when you grow up. Nothing is forever, and you can change paths. Try it. If you hate it, there is something else out there, without question. Just know the difference between the expectations of your role and the expectation that work be your life. 
Emily Briggs (Career Coach): If you're experiencing anxiety in your current role, I'd suggest setting up a meeting with your manager/supervisor — from there, express your anxieties, ask for honest feedback on your performance. If you're considering applying to a role, but don't know if you could get the job, apply anyway! The worst that can happen is you get rejected and try again. The best that can happen is that you gain experience in applying for roles, maybe practice interviewing, or (who knows!) get a job offer.
Lily Zheng (Diversity, Equity, and Inclusion Strategist and Consultant): The anxiety isn't your friend or your enemy, it's just there. Learn to treat it as just another source of information on how you're feeling as you tackle the challenges you face. Sometimes the anxiety is a great signal to play it safe. Sometimes it's a warning you'll want to ignore to take an important risk. The goal isn't to no longer be anxious, but to manage your anxiety and make choices that feel empowering regardless. 
Brianna: For those anxious over choosing a career — I have good news for you! You don't have to have it all figured out. I thought I wanted to be a graphic designer when I was 21. By 23, I hated graphic design. If you take a look at my experience on LinkedIn, I focused on generalist roles so I could identify what I did and didn't like. Your first job probably won't be your dream job, and that's OK. Find something you're relatively interested in, and go for it. Then analyze your experience: How do you like the work you're doing? What type of work environment do you thrive in?
How did you find the right career for you?
DeMario: My career path has been nonlinear. I've had to take several paths, sometimes setbacks, to find out what I want to do with my life. Some of that was creating a plan and the other part of that was being open to what the universe has in store for me. I remained humbled throughout the process and trusted I was right where I needed to be. [Also] I didn't get to where I am alone. I had a wonderful support network that encouraged and edified me.
Wes: Networking among peers is critical! Over the past 15 years, all the jobs I've had I've not submitted a resume. They all came about by people I know or friends who introduced me. The power of relationships is a very real thing. Meet others. Get to know them. Find ways you can help them out. These things always return back tenfold for your own career success.
Anne Bono (VP of Growth Marketing and Consumer Engagement at Penguin Random House): I paid very close attention to what made me happy, what made me excited, what led me to wake up each morning ready to work. For me, it was growing something from the ground up — creating strategy, finding simple and elegant solutions to complex problems — so I made it a point to seek out roles that fulfilled those needs. I would say this, too — focus less on a field and more on specific skills and actions that make you feel joy. A career is less about finding a field, and more about finding fulfillment. 
Have you ever had a setback in your job search? If so, what did you learn from it?
Megan: I have been rejected by countless companies that I once thought were my "dream" companies. Each time, I remember being devastated and took those rejections as judgments of my whole character. It wasn't until I started rejecting companies myself in my last job search that I realized these rejections can't be taken personally.
Mita: I had a job offer rescinded and it was devastating. I cried for days over this lost opportunity. I thought, how could this happen? I look back three years later, and it's the best thing that could have ever happened to me. It wasn't meant to be and ended up setting me on a different career trajectory. Be open to embracing setbacks and take the time to learn and grow from them. 
Anne: Job searching is, mostly, awful. It's like a series of endless first dates — and, like most first dates, they are usually bad. Even the awful job search experiences teach me something — often, it's around what I don't want or like, which is typically much more illuminating than learning what I do want or like. Pay attention to the things that make you recoil, and remember them — and the next time you encounter them, don't wait to see if it gets better; simply withdraw yourself from that process and try somewhere different. 
Who have you relied on or what sources have you used for career advice?
Brianna: I didn't have a mentor or anyone to really guide me post-graduation (or during college). So I relied heavily on webinars, articles about career development and growth, etc. Looking back, I would have put more emphasis on finding a mentor and building those relationships. Informational interviews would have helped a lot, too.
Megan: Having coffee chats with my peers and those a few steps ahead of me career-wise has been immensely helpful. I think of coffee chats like crowd-sourcing for great ideas that I wouldn't get otherwise.
Mita: I am fortunate to have a village of individuals who support me, champion for me, and say my name in rooms when I am not there. Surround yourself with people who want you to win and have your best interest at heart.
Emily: I didn't even realize career coaches existed until after my undergraduate degree. Before that, I heavily relied on family and friends who may or may not have known what they were doing. Now, as a career coach, I am much more aware of the amazing resources that are available (and free), these are a few of my favorites:
BLS: Occupational Outlook Handbooks
O*NET Online
The Muse
Forage (seriously, I'm not just saying this — what an awesome tool to gain professional experience(s) in an easily digestible way!)
The Balance Careers
What learnings from your career journey would you like to share with others?
Lily: It's OK to do things that don't directly utilize the formal skills you learned in school. Sometimes, even the most mundane experiences you've had can contribute to a skillset that other people might recognize in you but that you can't see in yourself. 
Megan: My biggest advice is to not neglect building your personal brand! So many of the things I have accomplished, including finding my way to my current job at Narrator, have come from putting myself out there and having somewhat of a presence on LinkedIn. This doesn't mean you have to make any posts on there, but rather simply have an optimized profile. That way, you can not only connect with like-minded professionals who can serve as your mentors and friends, but you can also be found by potential recruiters.
Lauren: Try things. If you're scared, do it scared. Listen to your gut, but if the worst outcome isn't worse than where you are right now, go for it!
Anne: To stop overthinking it. Find what brings you fulfillment, and then seek it in a job. Know that it's almost impossible to mess up, and you can always try again. Say yes to things that are interesting, even if they feel too big. You can learn almost anything you set your mind to. It's less about finding a job and more about finding joy. 
DeMario: Change your self-talk and bet on yourself. There is power in our thoughts and in our words. Empower yourself with kindness and motivation. Don't get stuck in what you don't have. Create what you want. Then, go boldly after your dreams even if and when people criticize you. 
Margaret: There were so many — from striving to do something outside of my comfort zone, to trusting my intuition, to taking risks, that will take you somewhere new. Believe in the power of failure. It's the best way to learn. Just remember to learn from your mistakes, and not to repeat the same ones.
>>MORE: Want to learn more about imposter syndrome and tips for managing career anxiety? Read Forage's Job Search Anxiety After College? Find Your Zen With These 8 Tips and Imposter Syndrome: Everything You Need to Know. 
Meet the Roundtable Experts
DeMario Bell
DEMARIO BELL is an innovator and accomplished community builder. He graduated with a Bachelor of Arts in English from Grand Valley State University in Grand Rapids, Michigan. As a first-generation college graduate, his passion lies at the intersection of mentorship and diversity, equity, and inclusion. DeMario began his career at the University of Michigan in Ann Arbor, Michigan as the mentorship program manager for the College of Literature, Science, and the Arts. Currently, DeMario is the senior community manager at Culture Amp.
Anne Bono
ANNE BONO is an accidental marketer, corporate executive, and multipotentialite with a smart mouth and a willingness to shout what most will only quietly think. Anne has spent much of the last two decades working in marketing for startups and large organizations and, based largely on her prior experiences in those spaces, is on a mission to get the business world to focus on the humanity of their teams and put people over profits. She partners with new, emerging leaders and seasoned execs, empowering them to build a humancentric future of work for themselves and their teams, and speaks to audiences on how to embrace and embody lucid leadership, create a humancentric workplace, and become an agent of authenticity. She is loud, proud, heavily caffeinated and tattooed, and usually not safe for work.
Emily Briggs 
EMILY BRIGGS has worked in youth programming, personnel development, student affairs within higher education, and workforce development. These experiences led Emily to a career and passion in helping others. Emily's educational background was originally in Fitness Management before she pursued a master's degree in Educational Leadership, and later obtained her Global Career Development Facilitator certification — and, as a lifelong learner, Emily believes in affordable and accessible education for all. Emily works as a career coach for an education management company, where she works with frontline workers throughout the country as they utilize their education benefits toward upskilling and enhancing their internal (or external) career mobility opportunities. Emily is proud to help individuals gain confidence and clarity in their career journeys and provide them with the tools to be successful now and in the future. 
Margaret Buj
MARGARET BUJ is an experienced talent acquisition manager and interview coach who helps job seekers to get hired, promoted, and paid more. She has 17 years of experience recruiting for global tech companies and tech start-ups across Europe and the U.S. (including Expedia, King, VMware, Microsoft, Avanade, Typeform, and Mixmax), and in the last 16 years, she's successfully coached over a thousand people worldwide to get the jobs and promotions they really wanted. She's worked with professionals at all levels in the private and public sector. Margaret has spoken at career events, conferences and has done training sessions and workshops in London, Monaco, Athens, and Saudi Arabia. Her advice has been featured in FoxBusiness, Built In, GOBanking Rates, Management Today, Financial Times, Management Today, and CIO Magazine. 
Brianna Doe 
BRIANNA DOE is a senior marketer, founder, and driven storyteller. After starting in the nonprofit space in college, her marketing career has evolved over the past ten years. She is currently the senior demand generation manager at Inventables, where she leads demand generation and content marketing. As an alumni mentor, Brianna helps Arizona State University students navigate internships and prepare for graduation. Through her newsletter, Career Mode, she shares actionable tips to optimize your job search and advance in your career. As the job support pillar lead at RevGenius, she co-hosts LinkedIn Live Revenue Jobs, a weekly event designed to connect hiring managers and job seekers. Brianna has been featured by LinkedIn News and Fast Company.
Lauren Howard
LAUREN HOWARD is the president and CEO of ElleTwo and VirtuELLE Health, which specializes in clinical operations, health care technology, and helping women redefine professionalism. At VirtuELLE Health, Lauren marries her experiences to provide infrastructure design, market fit insights, implementation strategies, growth models, and more to health care and allied health care companies. She works with groups around the globe to help direct strategy and advise on growing digital health technologies and programs in a post-pandemic world. Through the to-be re-launched ElleTwo, Lauren will lift up the voices of women, provide resources for growth, and community support to anyone looking to redefine professionalism for themselves. The New ElleTwo will be launching on Sept. 15, 2022.
Megan Lieu 
MEGAN LIEU developed a deep affinity for numbers at a young age, seeing them as a means to not only solve problems but to tell stories as well. After working in the financial sector, where she focused on business valuations and financial transaction data, she pursued a career in data science. As a data scientist, Megan uses her experience with Python, SQL, and R to perform product experimentation and develop reporting pipelines at Narrator.
Mita Mallick
MITA MALLICK is a corporate changemaker with a track record of transforming businesses. She gives innovative ideas a voice and serves customers and communities with purpose. She is currently the head of inclusion, equity, and impact at Carta. She was formerly the head of inclusion and cross cultural marketing at Unilever. She has had an extensive career as a marketer in the beauty and consumer product goods space. Mita is a LinkedIn Top Voice, a contributor for Entrepreneur and Harvard Business Review, and her writing has been published in Adweek, Fast Company, and Business Insider.
Wes Spencer
WES SPENCER is a nationally recognized technology innovator and cybersecurity influencer, and co-founder of multiple cybersecurity companies including Perch Security. Wes was awarded the 2020 Cybersecurity Educator of the Year by the Cybersecurity Excellence Awards, and has been featured in The Wall Street Journal, ProPublica, Dark Reading, and more. Wes is the vice president and channel chief for FifthWall Solutions, the nation's largest insurance broker focusing exclusively on cybersecurity insurance. Wes is also the co-host of the CyberCall with over 5,000 MSP weekly listeners. You can find him on YouTube (youtube.com/wesspencer) where he talks about technology, cybersecurity, and cryptocurrency.
Lily Zheng 
LILY ZHENG (they/them) is a sought-after diversity, equity, and inclusion speaker, strategist, and organizational consultant who specializes in hands-on systemic change to turn positive intentions into positive outcomes for workplaces and everyone in them. A dedicated changemaker and advocate named a Forbes D&I Trailblazer, 2021 DEI Influencer, and LinkedIn Top Voice on Racial Equity, Lily's work has been featured in the Harvard Business Review, New York Times, and NPR. Their most recent book, DEI Deconstructed, centers on accountable and effective practices to achieve DEI outcomes in organizations.
The post Forage Roundtable: Overcoming Anxiety and Imposter Syndrome appeared first on Forage.